I've just been reading an interesting post on the Guardian Book Blog about book covers.  I don't agree with everything the bloggers says – I love pulpy covers! – though I agree that for a subtle novel like J.G. Ballard's crash, this cover may not be appropriate: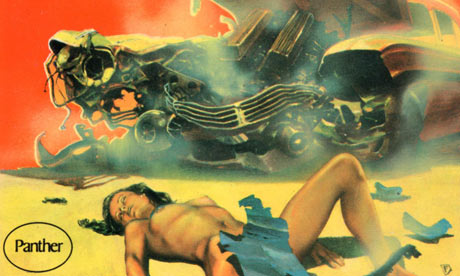 Harumph. 
The piece made me start to mull about fashions in covers – from active to passive.  In other words, instead of rip-roaring action scenes, these days we tend to get kick-ass heroines in jeans being pensive; or wizards in hoods, being pensive.  Such covers are often splendid, but I do hanker a little after the old days of bravura SFF art. 
I also wondered about what my my own personal favourite cover would be, if someone asked me that question – which, er, they haven't.  But that's not going to stop me answering!
 Brazyl by Ian Mcdonald comes close – I'm thinking of the early cover that looks like like the Rio Carnival in cover form.   But I've decided my favourite ever cover is this:
This is a work of art, not just a cover – and it's ACTIVE.  The artist is Tim Bradstreet.  (For a better and bigger image of it, click here.)
More on covers in a little while…I'm planning to do a wee retrospective of the covers of the great Jim Burns in a few weeks time. In the meantime, a question:
What's YOUR favourite SFF cover ever?
Keyword-Matched Posts:
If you enjoyed this post, you might find these others interesting: